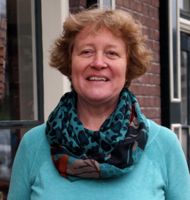 Regelmatig schrijft een van de (steun)fractieleden over zijn of haar ervaringen bij Progressief Ermelo. Deze keer is dat Jaantje Vink. Jaantje is sinds de afgelopen verkiezingen steunfractielid bij PE.
Als steunfractielid van PE en als nieuweling  mag ik wat schrijven voor de website van PE. Ik hobbel zo'n half jaartje mee met de fractie en kijk mee in de commissie Bestuur & Middelen. Om met het laatste te beginnen: het gaat veel om het grotere kader van de gemeente; de hoofdlijnen, de voorwaarden, onderzoeken, enz.  Ik heb gemerkt dat het niet zo handig is om als beginneling hiermee te starten om de plaatselijke politiek te leren kennen. Daarom zal ik binnenkort  mee gaan kijken bij de commissie Samenleving & Maatschappij. Voor mij wat dichterbij en concreter.
De fractievergaderingen daarintegen gaan over concrete zaken in Ermelo. Dan spits ik mijn oren. Het gaat over de herinrichting van het plein voor het gemeentehuis, windmolens, fietsenstallingen, de huishoudelijke hulp.
 
Op 8 maart vieren we weer de jaarlijkse Internationale Vrouwendag. Ik vraag me af hoe is het met de vrouwen in Ermelo gesteld die hier nog maar enkele jaren wonen in Ermelo. Kunnen zij meedoen in de besluitvorming bij de gemeente? Hoeveel jaar duurt het voordat zij kunnen participeren? Het gaat er steeds om dat iedereen mee kan doen en de zelfregie houdt.
Het houden van de zelfregie speelt ook bij ouderen die huishoudelijke hulp nodig hebben om zelfstandig te kunnen blijven wonen. Wat altijd nog voordeliger is dan verzorging in een verzorgingshuis.
Kwetsbare burgers hebben soms hulp nodig. Sociale contacten en zelfstandig functioneren is in een mensenleven van groot belang. Laten we de mensen aanspreken op hun kracht en niet op hun zwakheid of probleem.  Iedereen mag  naar vermogen een steentje bijdragen aan de Ermelose leefbaarheid.