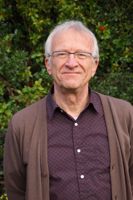 Regelmatig schrijft een van de (steun)fractieleden over zijn of haar ervaringen bij Progressief Ermelo. Deze week is dat Alex Kleijnen, raadslid sinds 2010.
Onlangs had een afvaardiging van de fractie van Progressief Ermelo contact met de heren Blankestijn en Bosman, belangenbehartigers van de stichting Alzheimer Nederland – afdeling Noordwest-Veluwe. Aanleiding was hun publieke oproep aan de gemeente Ermelo om dementie als een belangrijk thema te (gaan) zien. Het werd een inspirerend onderhoud.
Immers, dementie is niet alleen een medisch probleem. Het is ook een persoonlijke tragedie en een drama voor de familie. Het is echter ook een maatschappelijk probleem. Aandacht voor die maatschappelijke en sociale kant is nodig. Doordat mensen steeds ouder worden, verdubbelt het aantal mensen met dementie de komende 15 jaar. Er komt dus heel wat op de gemeente af. De vraag van de afdeling Alzheimer Noordwest-Veluwe is of er voldoende aandacht is voor deze specifieke doelgroep (binnen de bredere groep kwetsbare ouderen). Zou het niet raadzaam zijn voor deze mensen specifiek beleid te maken?
De vrees is namelijk dat door het samenvoegen van doelgroepen, bijvoorbeeld in de dagopvang, er te weinig wordt aangesloten op de specifieke behoeften van dementerenden en hun verwanten. Er wordt geopperd dat de nieuwe fusieorganisatie Stichting Welzijn Ermelo (SWE) meer moet oppakken en met haar organisatie en vrijwilligerswerk de dementerenden en de familie/mantelzorgers kan ondersteunen.
Ook wordt belangrijk gevonden dat er in het sociale wijkteam mensen komen te zitten die verstand hebben van dementie. En dan zou het wijs zijn als er afvaardiging vanuit de wijkvereniging in het wijkteam zitting neemt, zij kennen immers de buurt. Verder kan Ermelo zich spiegelen aan voorbeelden uit het land. Zo zijn er gemeenten die hebben verklaard een dementievriendelijke gemeente te willen zijn.
Dat wil zeggen dat er in zo'n gemeente intensief wordt samengewerkt met aanbieders van wonen, zorg en welzijn en met de familie/mantelzorgers, de huisartsen, de lokale Alzheimerafdeling, de ouderenbond en het verenigingsleven.
Om die samenwerking aan te jagen, voor samenhang te zorgen en waar nodig te faciliteren, is de regierol van de gemeente nodig. Met als hoofddoelstelling dat mensen die leven met dementie zo lang mogelijk kunnen meedoen. En dat degenen die dagelijks voor hen zorgen goede steun krijgen. Dit alles zien de heren Blankestijn en Bosman als een gewichtige taak van de lokale overheid. Progressief Ermelo wil die handschoen oppakken.