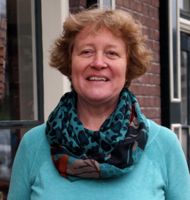 Regelmatig schrijft een van de (steun)fractieleden over zijn of haar ervaringen bij Progressief Ermelo. Deze keer is dat Jaantje Vink. Jaantje is sinds de afgelopen verkiezingen steunfractielid bij PE.
Als steunfractielid volg ik nu de Commissie Samenleving en Maatschappij. Ik volg hierbij Alex Kleijnen als raadslid. De thema's zijn concreter dan in de commissie Bestuur en Middelen.  Het is van belang dat de mensen die zelf met de verschillende regels te maken hebben, ook aangeven welke knelpunten zij tegen komen. De aankomende raadsvergadering in mei staat de Raadsbrief Participatiewet en de Raadsbrief Klachtenprocedure Sociaal Domein en Beleidskader vrijwillige en informele inzet op de agenda. Stuk voor stuk regels voor mensen in een kwetsbare positie. Een positie waarbij vrijwilligers steeds meer de smeerolie in de samenleving zijn. Allemaal mensen van goede wil!
Echter, de burgerlijke gemeente kan de problemen niet afwentelen op de vrijwilligers. Iets wat eerst betaald werd gedaan kan niet allemaal door vrijwilligers onbetaald worden overgenomen Tussen zorg die beroepskrachten en vrijwilligers leveren moet een duidelijk onderscheid blijven bestaan. We moeten als mantelzorgers zorgen voor onze ouder wordende ouders, voor onze broers en zussen met een beperking, en als het even kan ook vrijwilligerswerk doen binnen kerk en verenigingsleven. En als je dan ook nog de zorg hebt voor opgroeiende kinderen, kan het ook wel eens teveel worden.
Gemeenten lijken het er over eens te zijn: de langdurige zorg en ondersteuning kan alleen met meer vrijwilligers en mantelzorgers betaalbaar blijven. Hoe zien wij de ondersteuning van deze vrijwilligers en mantelzorgers?
De meeste mensen willen zo lang mogelijk thuis wonen met zoveel mogelijk eigen regie. Zij hebben behoefte aan integrale ondersteuning en zorg dichtbij door een beperkt aantal bekende mensen. Mantelzorgers hebben in die zorg en ondersteuning een steeds centralere rol. Zij kennen degene voor wie ze zorgen en bieden die zorg vanuit de relatie die ze met de ander hebben.
En wat nu als je een moeder bent die al jaren in armoede leeft? De participatiewet verlangt een bijdrage voor de samenleving. Een tegenprestatie! De overheid verwacht dat uitkeringsgerechtigden minimaal vrijwilligerswerk doen. En hoe ben je te motiveren voor iets wat verplicht is en misschien (financiële) consequenties heeft als je weigert? Wat betekent dit voor hen en hun kinderen? Het jaren in armoede leven en proberen alle eindjes aan elkaar te koppelen geeft vaak al de nodige spanningen en stress. Als zij dan ook in de situatie van mantelzorger voor bijvoorbeeld een zieke moeder komen kan dit nog meer spanning geven. Hoeveel rek zit er in de elastiek?
Hoe kun je zelf als bijstandsvrouw actie ondernemen? Op welke manier kan de burgerlijke gemeente een bondgenoot zijn of worden?
Wie ondersteunt de kwetsbare vrijwilliger van goede wil?