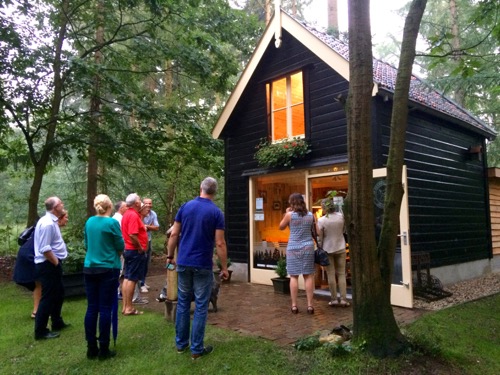 Op maandag 31 augustus is het nieuwe vergaderseizoen op inmiddels traditionele wijze geopend, namelijk met een excursie op de fiets. Het middagprogramma bracht de aanwezige fractieleden en wethouders naar twee recreatieparken in het Westelijk deel van Ermelo: vakantieoord Voor Anker aan de Oude Nijkerkerweg en camping De Meidoorn aan de Eendenparkweg. Twee verschillende bedrijven met ook totaal verschillende wensen voor de toekomst. De een zou graag een tweede bestemming willen naast recreatie (wonen), de ander ziet zichzelf in de toekomst als een bedrijf waar mensen die extra zorg en begeleiding nodig hebben kunnen wonen en soms ook werken.
 Na een maaltijd bij 't Jagersnest, het pannenkoekenrestaurant op recreatiepark De Driehoek waar de Nederlands Kampioen Pannenkoeken achter het fornuis staat, is een bezoek gebracht aan camping De Kriemelberg en bungalowpark De Toverberg. Deze recreatiebedrijven staan alle drie aan de Drieërweg maar zijn toch heel verschillend van elkaar. Op de een staan vooral chalets (stacaravans) met vaste bezoekers, bij de ander worden seizoensplaatsen verhuurd of komen mensen voor een weekeinde of een paar weken in de zomer.
Bij alle bezochte recreatiebedrijven was een rondleiding georganiseerd en was er volop gelegenheid om te praten over eventuele plannen voor de toekomst of juist om te laten zien waarom het nu goed was. Ook is er gesproken met de bestuursleden van de Veron.