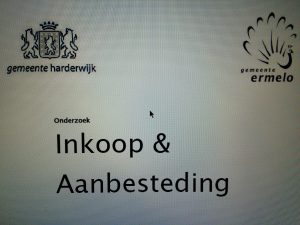 door René Arts – De rekenkamercommissie is een commissie die onafhankelijk onderzoek doet naar onderwerpen die mede in overleg met de gemeenteraad worden gekozen. Zij onderzoeken of het beleid dat de gemeente maakt doelmatig is, maar ook of hetgeen de gemeente doet in overeenstemming is met het beleid.
Het laatste onderzoek ging over inkoop en aanbesteding. Uit het onderzoek bleek dat er op dit gebied heel veel goed gaat. Maar er kwamen ook aanbevelingen uit. Zo zou de gemeenteraad zich meer met inkoop en aanbesteding moeten bemoeien. Ook moet er meer aandacht komen voor duurzaam inkopen, iets wat Progressief Ermelo erg aanspreekt.
Er komt in het najaar een voorstel over hoe wij als raad nog beter doelen kunnen formuleren om het inkoopbeleid goed te laten verlopen. Collega PE-raadslid Bea van 't Hul diende gelijk een motie in voor het inkopen van duurzaam vervoer binnen de regio. Deze motie is aangenomen.