door Jaantje Vink –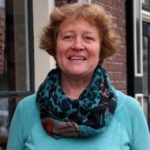 Op woensdag 6 april jl. is in Nederland een raadgevend referendum gehouden over het zogeheten Associatieakkoord met Oekraïne. Kiesgerechtigde inwoners van Ermelo hebben hun stem uitgebracht. Velen zijn ook thuis gebleven! Helaas!
Tijdens het referendum werd van de inwoners in Ermelo gevraagd of zij vóór of tegen dit associatieakkoord met Oekraïne zijn.
Associatieakkoorden zijn bindende afspraken van de Europese Unie met andere landen. Het is een specifiek soort internationale overeenkomst, gericht op verregaande samenwerking tussen de EU en het betreffende land, in dit geval Oekraïne. Zo'n akkoord is vooral gericht op economische samenwerking en handel, maar raakt vaak ook aan veel andere onderwerpen, zoals de versterking van de rechtsstaat en bescherming van de mensenrechten.
In Ermelo was 42,7 % voor en 56,6 % tegen dit associatieakkoord. Landelijk was dit 38,1 % voor en 61,1 % tegen. In Ermelo hadden we een opkomstpercentage van 36,3% (7.545 stemmers). Het raadgevend referendum is landelijk geldig want het aantal uitgebrachte landelijke stemmen is boven de 30%. De opkomst van 32,2 % maakt het referendum geldig.
Voor ik mijn stem heb uitgebracht heb ik mijn licht opgestoken bij twee vrienden van mij die deskundig zijn in de achtergronden van de Oekraïne. Wat mij raakte was dat de Oekraïne zeer goede landbouwgrond heeft. Dat raakt mij als boerendochter. Op goede landbouwgrond kunnen ook goede gewassen groeien! En kunnen de Oekraïners hun armoede bestrijden.
Ook de ontwikkelingsorganisaties in de Oekraïne riepen op tot een voor stem. Zij werken keihard aan een verbetering van de situatie in de Oekraïne terwijl ook daar 1,5 miljoen mensen op de vlucht zijn voor het oorlogsgeweld in Oost-Oekraïne. Welke nu in Oekraïne zelf worden opgevangen. De beste remedie is om het land zelf helpen te ontwikkelen en z'n democratie en rechtstaat op te bouwen. Uiteindelijk heb ik bewust vóór gestemd.
Politiek gaat over de dagelijkse dingen, soms ver weg, soms dichtbij. En in onze democratie mogen we daar ook nog iets over zeggen!