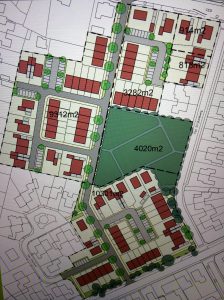 Door Bea van 't Hul – In de laatste raadsvergadering voor de zomervakantie stond het "Stedenbouwkundig Programma van Eisen De Driesprong" op de agenda.
In de war?
Volgens het college was de gemeenteraad mogelijk in verwarring zo vertelden ze ons in een raadsbrief. Dit nadat onze fractie in de commissievergadering van juni veel moeite moest doen om de wethouder te overtuigen dat het waardevolle bosje op het voormalige Van Beek terrein toch echt op de monumentale bomenlijst staat. De SGP was zelfs zo vriendelijk om dit nog een keer extra uit te zoeken en ons te steunen door na de commissievergadering nogmaals vragen hierover aan de wethouder te stellen. Inderdaad het bosje staat op de lijst van monumentale bomen erkende ook het college bij monde van de wethouder.
Dilemma groen of starters?
Als fractie van Progressief Ermelo zagen we ons voor een lastig dilemma geplaatst: immers wij staan voor groen maar ook voor woningbouw voor de juist (jonge) Ermelose starters, deze huurwoningen zijn juist op dit stuk grond gepland. Strak vasthouden aan het behoud van groen was in dit geval niet verstandig, het bosje is overwoekerd en verwaarloosd en de bomen die er staan hebben zich hierdoor niet goed kunnen ontwikkelen. Hele grote kans dat als ze los komen te staan na onderhoud dat ze de eerste beste storm al niet overleven. Daarnaast ligt het bosje een stuk lager dan de rest van het terrein en zal het opgevuld moeten worden met zand om te kunnen bouwen, dit verkleint de overlevingskansen nog weer. Een groene rand kan wel blijven staan langs de woningen van de Van Emsthof. De bomen die nu sneuvelen zullen wel in het hele plan gecompenseerd worden, de wethouder heeft ons beloofd dat er "fatsoenlijke" grote bomen voor terugkomen.
Ontsluiting nieuwe wijk
In de commissievergadering werden we door een aantal aanwonenden van de Oude Telgterweg erop geattendeerd dat de uitrit van de nieuwe beoogde ontsluitingsweg wel heel vervelend recht voor hun woning ingetekend is. Zij vrezen overlast van de autolichten die recht bij hen naar binnen zullen schijnen. Een motie die het college oproept onderzoek te plegen naar andere mogelijkheden is aangehouden omdat bij stemming bleek dat er evenveel voor- als tegenstemmers waren, dit omdat een van de raadsleden afwezig was. In september zal opnieuw gestemd worden als de raad weer compleet is. De wethouder is echter al hard aan het werk om te bezien of er een andere oplossing mogelijk is, waarbij de bewoners zelf ook aangeven op dit moment positief gestemd te zijn t.a.v. de contacten met hem. Het mooiste is wat onze fractie betreft als de motie straks in september overbodig blijkt te zijn omdat er een aanvaardbare oplossing gevonden is.