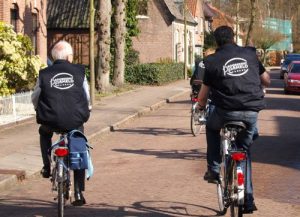 Fietsen is voor Progressief Ermelo een belangrijk onderwerp waar we graag aandacht voor vragen. Dat bleek al uit het eerdere nieuwsbericht over het "fietsparkeren". Vanuit hetzelfde belang willen wij graag uw aandacht vragen voor de komende Nationale Fiets Telweek. Deze Fiets Telweek is een groot nationaal onderzoek om meer te weten te komen over hoe onze fietsritten er uit zien: hoe vaak fietsen we, welke afstand leggen we af, op welke routes treden er vertragingen op, enzovoorts. Zoals de naam al zegt, vinden de tellingen plaats gedurende een week en wel de week van 19 t/m 25 september. Om mee te kunnen doen moet u over een smartphone beschikken en bij de iTunes Appstore (iOS) of de Google Playstore (Android) de Fietstel App downloaden. Het is de bedoeling dat steeds als u fietst in de genoemde week u uw smartphone bij u hebt (en wie heeft dat niet?), gegevens over de rit worden geheel automatisch verzonden naar een centrale opslag, uiteraard gaat dat anoniem. U heeft er verder geen omkijken naar. Wel krijgt u op uw smartphone informatie over uw ritten en nog meer. Veel of weinig fietsen maakt niet uit, het gaat juist om een totaal beeld.
Is uw interesse gewekt? Download de App of ga eerst nog naar de website voor meer informatie: www.fietstelweek.nl
We zijn benieuwd wat voor het fiets(on)gemak in Ermelo we te weten zullen komen!