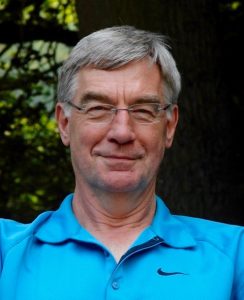 Door Aad Bezemer – Met een PE-bril op heb ik de eerste raadsvergadering na de zomervakantie vanaf de publieke tribune gevolgd. En wat viel me zo van een afstandje op? Er stonden twee belangrijke onderwerpen op de agenda.
Als eerste de Sportvisie van onze eigen wethouder Laurens Klappe. Van alle fracties niets dan lof, geuit met soms brede uitweidingen waarbij aandacht werd besteed aan het belang van Natte gymles, Olympisme, JOGG, Denksport, Veilige sportomgeving, Mensen met afstand tot de arbeidsmarkt en/of sport (school?) en vooral ook Buurtsportcoaches (een woord waar je gemakkelijk over struikelt, ik stel de afkorting BSC-er voor). Daar loopt er weliswaar een aantal van rond in Ermelo, maar dat is nodig ook, want verschillende fracties zien voor hen allerlei nieuwe (?) taken weggelegd. CDA, PE en BBE vonden dat zo belangrijk dat er zelfs een motie voor werd ingediend. De Sportvisie was trouwens aanleiding voor nog twee moties, waarbij die over de Natte gymles nog enige vragen opriep, zoals of de gemeente zich er wel over moet uitspreken dat e.e.a. "bij voorkeur op een leuke uitdagende wijze" zou moeten gebeuren, gaat de gemeente daar wel over? De wethouder kreeg het uiteindelijk alleen nog even moeilijk met de vraag van de CU wat het zou betekenen als de moties niet zouden worden aangenomen. Mijn interpretatie van zijn antwoord was dat dit voor hem helemaal niets zou uitmaken. Nou ja, er is toch mooi ruim een uur aan dit onderwerp besteed…
Het andere belangrijke onderwerp betrof de Raadsbrieven over de "Lanen": Prins Hendriklaan, Julianalaan en Jacob Catslaan. Een kwestie die het College, Raad en Omwonenden al zeker 10 jaar bezig houdt. Een kwestie ook waar nooit iedereen het over eens wordt, dat bleek weer. In deze fase bleven College, gesteund door de coalitiepartijen (en de SGP!) echter stevig op het standpunt staan dat in een eerder stadium alle betrokkenen er hun zegje over hadden kunnen doen, er vervolgens op een democratische wijze een besluit over was genomen en de Raad nu feitelijk alleen over de uitvoering werd geïnformeerd. Pogingen van BBE en VVD om op enigerlei wijze terug te kunnen komen op de genomen besluiten waren dan ook kansloos; hun moties ter zake werden ruimschoots verworpen. Aardig vond ik nog wel een door een raadslid gemaakte opmerking of BBE nou stond voor Burgerbelangen of voor Buurtbelangen. Die vraag sloeg voor mij de spijker precies op de kop: het ging om Algemeen belang versus Buurtbelang. De principiële vraag hier is natuurlijk wel of je verkeersoverlast moet spreiden of juist moet concentreren, maar daar ging het vanavond niet (meer) over. Anders dan het eerste onderwerp was de Raad hier in goed drie kwartier mee klaar.
Voor het overige is nog vermeldenswaardig dat het onderwerp Legesverordening 2016 de nodige verwarring opriep, zelfs zo dat binnen de fractie van PE er verschillend over werd gestemd en alzo de enige stem tegen het voorstel opleverde. Of was dat nog een nawee van het emotionele moment voor de fractievoorzitter van PE die bij dit agendapunt de voorzittershamer van de burgemeester mocht overnemen en aldus -volgens eigen zeggen- "met deze minute of fame het hoogtepunt van zijn politieke loopbaan" had bereikt?
Tot slot nodigde de griffier iedereen uit om na afloop met haar een glas te drinken vanwege het succesvol afronden van een pittige cursus.
Het was weer een mooie avond.