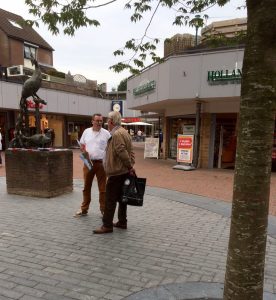 Op zaterdagmiddag 17 september was de fractie van Progressief Ermelo te vinden in het centrum van het dorp. Er is met tientallen inwoners van Ermelo gesproken. Wat houdt de mensen bezig? Wat speelt er? Een korte impressie.
Met stip op 1: Ermelo is een mooi dorp. Fijn om te wonen. Prachtig opgeknapt centrum. Mooie zitjes! Wel nog wat aankleden met kunst en bloemhangers. Geen hoogbouw a.u.b. Jammer dat de brievenbus bij Het Wapen van Ermelo (oude postkantoor) is weggehaald. En dat het bankje op de hoek van Torenlaan/Stationsstraat is verdwenen. Beide geeft ongemak als je wat minder goed ter been bent. Hoe zit het met het beertje van Anneveldt en het leugenbankje in de Enk? Knorrig: wanneer komt dat terug? Goed dat er ingezet wordt op behoud bestaand groen. Graag vlinder- en bijenvriendelijk groen gemeenteperkjes. De verkeerspaaltjes bij de Kringloopwinkel zijn eerder lastig dan dat zij iets bijdragen aan de verkeersveiligheid. Ergernis: er wordt onvoldoende handhavend opgetreden tegen fietsen in de Stationsstraat. Een dringend advies: Toekomstige centrummanager moet geen buitenstaander zijn maar geworteld inwoner van Ermelo.
Wensen:  Muziektent op 't Weitje vergunningvrij openstellen voor musiceren e.d. Graag eens een concert daar. Mogelijkheid wordt nu in het geheel niet benut.
Vragen:  Wat gaat er gebeuren op landgoed Veldwijk? Wordt er nog onderhoud gepleegd aan de groenranden met de wijk West? Moet het volkstuinencomplex verdwijnen? Vervanging? Zul je zien; over 10 – 15 jaar wordt betreurd dat al die bedden bij Veldwijk weg zijn want dan moet er weer opgebouwd worden.
Paar gevleugelde uitspraken: Sparen van bomen is ook een vorm van duurzaamheid. Pas op; alles wat je als groen kwijt raakt, komt in steen terug.
Algemeen gehoorde opmerkingen (in willekeurige volgorde): Graag zwembad met speelvoorzieningen en glijbaan. De huur van de woningen aan de Eksterstraat zijn erg hoog. Er wordt stevig gejakkerd (rijden met hoge snelheden) over de Dirk Staalweg. Betere voorzieningen en onderhoud van uitlaatveldjes voor de honden. Te weinig huurwoningen en daardoor wachtlijsten. Goed dat de Prins Hendriklaan weer open gaat. Aandacht voor calamiteiten/nooduitgang bij DOK 48 horeca. Onverschilligheid, weinig klantvriendelijkheid bij sommige winkeliers.
Publieke dienstverlening: Tevreden. Wel altijd een ontvangstbevestiging sturen bij brieven/mails, want zo hoort het. Gebeurt niet altijd. Ambtenaren moeten goed oppassen en geen toezeggingen doen waar ze niet over gaan. Regiegemeente? Zorg er dan ook voor dat je als gemeente de regie voert en het niet laat bepalen door externe bureaus.
Malcontenten: Een hele kleine minderheid van de mensen was niet tevreden: of je nu door de hond of de kat gebeten wordt, het maakt allemaal niet uit, gebeten word je toch.
Met deze inbreng kunnen wij als fractie aan de slag. Hartelijk dank aan iedereen die tijd genomen heeft om met ons te praten.