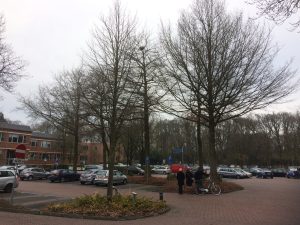 In de raadsvergadering van 13 oktober 2016 heeft Progressief Ermelo samen met drie andere partijen (CU, BBE, SGP) een motie ingediend om de waardevolle bomen op de Markt te blijven beschermen. Het college had namelijk besloten dat de aanwezige waardevolle bomen wellicht in de weg zouden staan van de nieuw aan te leggen parkeerplaats ten behoeve van de bouwplannen aan de Burgemeester Langmanstraat. En dan is het veel makkelijker als ze geen beschermde status hebben. Uiteraard hebben wij ons hier tegen verzet; iets wat een flinke discussie teweeggebracht heeft. Kern van de discussie? Houd je bij het ontwerp rekening met de al aanwezige bomen of maak je eerst een ontwerp en zie je daarna wel of de bestaande bomen er inpassen?
Gelukkig heeft het college haar fout ingezien en behouden de waardevolle bomen hun bescherming. Of ze allemaal op hun huidige plaats kunnen blijven staan is nog niet zeker, maar ze blijven in ieder geval wel in hetzelfde gebied staan. Met ook voor de toekomst een beschermde status. Dat is besloten in de raadsvergadering van afgelopen donderdag.
Toch is het belangrijk om goed op te blijven letten. Het ontwerp van de nieuwe parkeerplaats is nog niet bekend en wij zijn er absoluut niet gerust op dat er duurzaam met alle bomen omgesprongen zal worden.