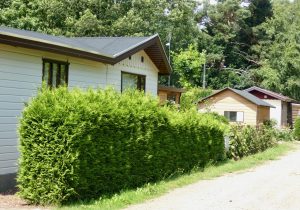 Over jongerenhuisvesting wordt vaak gesproken in de commissie- en raadsvergaderingen. Alle partijen zijn het er over eens dat het echt belangrijk is. Maar veel verder dan zeggen hoe belangrijk het is, komt het eigenlijk niet. Het wordt vaak ook gekoppeld aan starterswoningen en dan gaat het eigenlijk altijd over (meestal grondgebonden) eengezinskoopwoningen. En die zijn voor jongeren weer veel te duur.
Tegelijkertijd wordt er gesproken over vakantieparken die niet meer als vakantiepark gebruikt worden. Allen zijn het er over eens dat hier eigenlijk iets anders mee zou moeten gebeuren. Maar ook dit komt tot nu toe niet echt van de grond. En als er dan iets lijkt te gaan gebeuren op een park gaat het weer over koopwoningen.
Progressief Ermelo vindt dat er maar eens spijkers met koppen geslagen moeten worden. Wij vinden dat het hoog tijd is dat de gemeente een van de te veranderen vakantieparken zelf moet kopen om zo het goede voorbeeld te geven. De huisjes en stacaravans op zo'n door de gemeente gekocht park kunnen prima verhuurd worden aan jongeren: tegen betaalbare huurprijzen. Een prima manier om de wachttijd voor een woning van Uwoon of het moment dat de koop van een starterswoning wel mogelijk is, te overbruggen.
Als gemeente kun je zo een voorbeeld geven van wat de mogelijkheden zijn voor eigenaren die hun vakantiepark willen veranderen. Dit kan dus voor jongerenhuisvesting zijn maar je kunt ook denken aan tijdelijke huisvesting voor urgente woningzoekers of aan begeleid wonen.