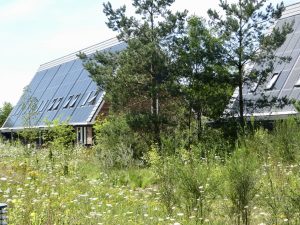 door Anneke Knoppert – Dat er al allerlei regels, afspraken en beleidsstukken waren die over 'het groen' gingen was bekend. Hoe kan het dan dat er toch bij iedere ontwikkeling in Ermelo weer discussies ontstonden over hoe daar dan mee omgegaan moest worden? Dat een groene leefomgeving fijner, mooier, gezonder en duurzamer is weet inmiddels ook iedereen maar ook daar moest iedere keer voor gestreden worden. Met het vaststellen van de Groenvisie 2017-2027 kunnen wij dat hopelijk allemaal achter ons laten.
Deze Groenvisie geeft duidelijk aan hoe we in de toekomst omgaan met bomen en andere natuur. Zo wordt er bij nieuwe plannen eerst gekeken naar welke bomen er al staan en wordt het ontwerp daar zoveel mogelijk op aangepast en worden de waardevolle bomen goed gedocumenteerd en krijgen ze extra bescherming. Om ervoor te zorgen dat alle inwoners van Ermelo in een groene, gezonde en duurzame omgeving kunnen wonen is vastgelegd dat er in de wijken waar dat nu nog niet het geval is, de wijken Centrum en een deel van Zuid, zo spoedig mogelijk gekeken gaat worden hoe deze groener gemaakt kunnen worden (opdracht via door PE geïnitieerde motie) . Hoe groen is groen genoeg? Tenminste 100m2 openbaar groen per woning en 0,5 boom per inwoner op wijkniveau, dus in de buurt (vastgelegd via door PE geïnitieerd amendement). Behalve bomen en grasveldjes kunnen dit ook natuurlijke speelveldjes, moestuinen, groene gevels en groene daken zijn.
Deze Groenvisie is niet bedacht door iemand vanachter zijn of haar computer, maar door allerlei verschillende organisaties, inwoners, raadsleden en medewerkers van de gemeente. Een goed voorbeeld van hoe je samen bedenkt hoe je wilt dat Ermelo omgaat met het groen. Heeft u een idee voor de vergroening van uw buurt? Neem contact op met het Leefbaarheidsteam van de gemeente en zij zullen samen met u kijken of en hoe deze plannen werkelijkheid kunnen worden.