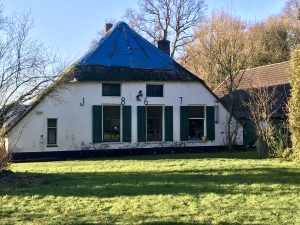 door Alex Kleijnen – Boerderij De Heuvel, Oude Nijkerkerweg 50, staat te boek als gemeentelijk monument. Het maakt onderdeel uit van Ermelo's materieel cultureel erfgoed. Eigenaar van het pand is GGZ Centraal. De staat van onderhoud van het gebouw is bedroevend. Als er op korte termijn geen maatregelen worden genomen, is het bouwwerk voor de toekomst verloren.
Dat brengt de fractie van Progressief Ermelo tot het stellen van de volgende vragen aan het college:
Is de aanduiding "gemeentelijk monument" slechts een eretitel c.q. onderscheiding of betekent het ook een daadwerkelijke inspanningsverplichting c.q. zorgplicht tot instandhouding?
Wie is er in deze eerstverantwoordelijk, de eigenaar of de gemeente? Of is er sprake van een gezamenlijke verantwoordelijkheid?
Is er over het bewaren van dit gemeentelijk monument overleg (geweest) met GGZ Centraal?
Welke mogelijkheden kan het college inzetten ter bescherming van dit monument en is het college daartoe bereid?