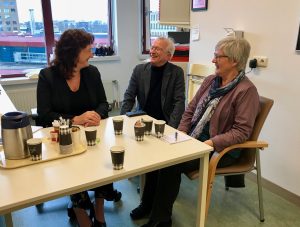 Vorige week was een afvaardiging van Progressief Ermelo op bezoek in St Jansdal in Harderwijk. De partij wilde o.a. weten of de berichten in de media waar zijn dat ziekenhuizen verstopt raken met ouderen. Daarover en over nog veel meer sprak de fractie met mevrouw Judith van Tuijn, klinisch geriater en tevens projectleider ouderenzorg van het ziekenhuis.
"Indianenverhalen" zo betitelde dokter van Tuijn deze geluiden uit de media. Gelukkig! Het komt maar weinig voor dat ouderen om niet-medische reden worden opgenomen. Wat wel speelt is dat ouderen ná behandeling op de Spoedeisende hulp niet zomaar naar huis terug kunnen.  Een voorbeeld is een oudere met een gebroken pols die alleen woont. Dan is het lastig om direct goede zorg te organiseren, en worden mensen soms noodgedwongen opgenomen. Ook komt het voor dat mensen na de opname verzwakt zijn en niet naar huis kunnen.
Dokter van Tuijn: "Ouderengeneeskunde is over het algemeen ingewikkeld. Ouderen zijn kwetsbaarder en hebben vaker meerdere lichamelijke problemen. Dat vraagt meer tijd en vaak ook meer onderzoek om uit te zoeken wat er aan de hand is. Een ander dilemma is of je alles wel moet behandelen. Vooropgesteld, niemand is voor zijn plezier in het ziekenhuis maar vooral ouderen raken sneller uit hun gewone doen. Waar we zeker mee moeten stoppen is ouderen als een maatschappelijke probleemgroep te zien.  De meeste ouderen wonen zelfstandig thuis met zo nodig ondersteuning van de familie en thuiszorg. Dat vraagt echter soms wel veel van de familie."
 Hoe ziet de klinisch geriater de rol van de gemeente(n)?
Belangrijk is dat er in de wijken goed wordt samengewerkt in zogenaamde zorgteams. Dat er afspraken zijn tussen huisarts, wijkverpleging, mantelzorg en het gemeentelijk welzijnswerk over de samenwerking. Met één digitaal dossier, door alle betrokkenen in te zien. Daarnaast passende voorzieningen om ouderen met een zorgvraag verantwoord thuis te laten wonen. Zoals dagbesteding, huishoudelijke ondersteuning, vervoer en eenzaamheidsbestrijding. Bij alleenwonende ouderen blijken de meeste problemen te worden veroorzaakt door ondervoeding, uitdroging, verkeerd medicijngebruik en zeker ook eenzaamheid. Eenzaamheid is zogezegd het nieuwe roken, met veel negatieve gezondheidseffecten. Een ander serieus probleem is het groeiend personeelstekort in de zorg. Dat laatste verdient extra aandacht.
De gemeente Ermelo is momenteel flink bezig over het onderwerp 'wonen met zorg'. Voor de fractie van Progressief Ermelo was het bezoek aan het St Jansdal daarom een meer dan nuttig werkbezoek.