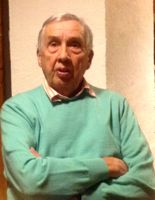 Iedere week schrijft een van de (steun)fractieleden over zijn of haar ervaringen bij Progressief Ermelo. Deze week is dat Anton van der Cingel, voormalig raadslid en nu al weer jaren steunfractielid bij PE.
Wellicht is bekend dat een gemeenteraadsfractie naast gewone leden ook steunfractieleden kent. Zij ondersteunen de fractieleden, die deel uitmaken van de Raad, al dan niet in een vergadering. Vaak hebben steunfractieleden aspiraties om later ook fractielid te worden. In mijn geval is dat niet zo. Ik was in de negentiger jaren fractielid en ben als het ware blijven hangen. 
Waarom doe ik dit eigenlijk?
Ik ben geïnteresseerd in de (gemeente)politiek; dat is al begonnen op de middelbare school met een vak dat toentertijd (vijftiger jaren) Staathuishoudkunde heette. Met deze laatste zin kom ik bij de gemeentelijke huishouding want als steunfractielid moet je daarin geïnteresseerd zijn en je steentje willen bijdragen. Dus hoe gaat de gemeente met de centen om en wat doen ze er zoal mee. Deftiger gezegd wat is het beleid van de gemeente op een aantal terreinen zoals WMO, zorg , verkeer, wonen, inrichting Stationsstraat e.d.
Moet je dan van al deze zaken verstand hebben? Dat is natuurlijk niet te doen. Je probeert je wel zoveel mogelijk voor te bereiden. Ook luister je naar de fractiespecialist. Wat is zijn of haar zienswijze met betrekking tot de punten die op de agenda staan.
Die agenda wordt voornamelijk bepaald door de agenda van de gemeenteraad (commissies), door partijorganisatorische zaken, het fractieplan e.d.
Een en ander betekent wel dat je je thuis moet voorbereiden. Gelet op het huidige digitale tijdperk is dat geen probleem meer want veel stukken staan op het internet. Vroeger moest ik naar het gemeentehuis om de stukken op te halen.
Binnen de fractie draai je als steunfractielid volwaardig mee. Je mening is niet altijd  doorslaggevend, je bent natuurlijk toch een beetje amateur. Dat is niet erg. In mijn geval vind ik dat het liefdewerk moet blijven. Maar daarom is het nog niet vrijblijvend.
Plezier in het werk is belangrijk om je werk goed te doen. Ik loop al een aantal jaren mee en het verleden helpt me soms een handje. De fractievergaderingen zijn helaas (nog) niet openbaar, maar als u als buitenstaander iets wilt  weten of opmerken neem dan contact op met een van de fractieleden. Het digitale tijdperk is u daarbij tegenwoordig behulpzaam.