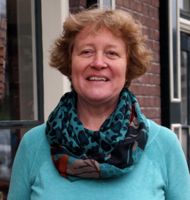 Iedere week schrijft een van de (steun)fractieleden over zijn of haar ervaringen bij Progressief Ermelo. Deze week is de beurt aan Jaantje Vink. Jaantje is sinds de afgelopen verkiezingen steunfractielid bij PE.
Mijn naam is Jaantje Vink, ik woon nu 22 jaar in Ermelo met mijn echtgenoot Albert Grit en 3 kinderen (waarvan al twee op kamers zitten). In het dagelijks leven werk ik als  diaconaal adviseur van de Protestantse Kerk in Zuidoost Nederland. Ik werk voor mensen in de knel in Nederland en Wereldwijd. In mijn werk en als vrijwilliger ben ik altijd nauw betrokken bij wat er leeft in de maatschappij.
Als steunfractielid mag ik snuffelen aan de Commissie Bestuur en Middelen.
En vanuit een sociale en groene partij (en zelf afkomstig uit de PVDA) let ik op de keuzes die gemaakt worden. Ik wil ervoor strijden dat iedere inwoner van Ermelo mee kan doen in de samenleving. Hoe worden de kennis, macht en geld verdeeld? Ieder mens telt!
Ik vind het interessant om te kijken hoe er compromissen worden gesloten, vanuit de verschillende partijen in de coalitie (en soms ook breder). Ook de voorbereidingen van de commissievergaderingen zijn interessant en boeiend. Ik ben bezig met beleid en uitvoering in ons eigen dorp.
Wat ik van belang vind is dat ongeacht sekse, inkomen, ras, seksuele geaardheid, wel of geen beperkingen;  iedere burger in Ermelo meetelt, mee mag doen en van belang is. Een rode draad is voor mij om iedereen gelijke kansen te bieden. Ieder mens telt, en daarvoor moeten wij ons samen inzetten!.
Ook duurzaamheid en Fairtrade (eerlijke handel) is geen vanzelfsprekendheid. Ook in mijn werk zie ik dat je als burger verschil kunt maken in je eigen consumptiegedrag met producten die Fairtrade zijn. Wij als inwoners van Ermelo hebben ook een verantwoordelijkheid ten opzichte van de boeren wereldwijd, die recht hebben op een eerlijke prijs. En dat geldt ook voor textielarbeiders. Ook in Ermelo wil ik graag streven naar een duurzame samenleving waarin natuur en milieu beschermd worden, zodat onze kinderen en hun kinderen nog lang mogen genieten van al dat moois in Ermelo!
We zitten hier in Nederland in een bevoorrechte positie, en laten we delen van wat ons gegeven is!