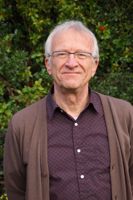 Iedere week schrijft een van de (steun)fractieleden over zijn of har ervaringen bij Progressief Ermelo. Deze week is dat Alex Kleijnen, raadslid sinds 2010
De welkome periode van de feest- en vakantiedagen zit er weer op.
Heerlijk om zo een poosje terug te schakelen, te genieten van gezin, familie, vrije tijd en noem maar op. Geen baas die op je zit te wachten.
Even niet de druk van datums waarop iets klaar of gebeurd moet zijn.
Echter, helemaal niks doen zit niet in mijn aard.
Om eens wat te noemen: Ik heb mijn archief uitgemest en een paar dossiers bijgewerkt. De interne organisatie weer op orde gebracht zogezegd. En jawel, toch ook nog ambtshalve tijd gemaakt voor het maken van wat werkbezoeken. Zo was ik op oudejaarsdag 2014, samen met collega raadslid Anneke Knoppert op de koffie bij Peter de Graaf, initiator/oprichter van de stichting Noah.
Stichting Noah wil (tijdelijk) opvang bieden aan mensen uit Harderwijk en Ermelo die dak- en/of thuisloos zijn of dreigen te worden. Officieel is men in september jl. van start gegaan op basis van een incidentele subsidie van beide gemeenten. Thans verblijven er twaalf personen in de opvang. Financiële schulden en daardoor de woonlasten niet meer kunnen betalen, van huis weggelopen, ruzies, echtscheiding, mishandeling, dat zijn vooral de veroorzakers/boosdoeners van 'op straat komen te staan'. (Mensen met psychiatrische of verslavingsproblemen behoren niet tot de doelgroep.) Op dit moment heeft Noah nog geen formele positie in het kader van de Maatschappelijke Opvang binnen Harderwijk en Ermelo. De toekomst zal leren of dat het geval wordt.
Verder heb ik op 2 januari jl. bestuur en medewerkers van De Parasol de hand geschud tijdens hun nieuwjaarsbijeenkomst. Daarbij kennisgemaakt met Gerda Cameron welke Els Tabak opvolgt als coördinator van het inloophuis. Het wordt voor De Parasol een spannend jaar want wat gaat er nu gebeuren als straks De Leemkuul tegen de vlakte gaat? Wat wordt dan het nieuwe onderkomen? Namens de fractie van Progressief Ermelo heb ik laten weten dat wij een passende alternatieve locatie in de wijk ten sterkste zullen ondersteunen en nastreven.