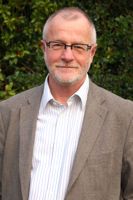 Iedere week schrijft een van de (steun)fractieleden over zijn of haar ervaringen bij Progressief Ermelo. Deze week is dat Laurens Klappe, namens PE wethouder Samenleving.
Als wethouder namens Progressief Ermelo heb ik een mooie portefeuille. Het gaat veel over onderwerpen die veel mensen direct aan gaan. Zoals de WMO en jeugdzorg. Onderwerpen die de afgelopen maanden volop aandacht hebben gehad en nog zullen krijgen. Zowel in de politiek als in de media.
Maar er zijn ook andere thema's die of leuk of belangrijk zijn. Waarschijnlijk zullen we voor de zomer nog gaan praten over een nieuw gebouw voor de RK Prins Willem Alexanderschool op het Pretoriusplein. Bij de discussie over het  'Kulturhus' of "Huis voor Bestuur en Cultuur' zoals het nu ook wel genoemd wordt, gaan we het ook hebben over verplaatsing van de bibliotheek. De rol van de bibliotheek in een veranderende en meer digitale wereld zal daarbij van belang zijn, maar ook de vraag hoeveel ruimte is daar voor nog nodig.
En die verplaatsing zou wel eens sneller aan de orde kunnen zijn dan velen nu denken.
En wat te denken van het nieuwe onderdeel in mijn portefeuille: de sport. Zelf mag ik graag sporten. Vooral de wat langere duursporten zoals wandelen, fietsen, roeien en hardlopen hebben mijn belangstelling. Allemaal buitensporten. Toch is het ook heel leuk om nu de tanden te gaan zetten in de toekomst van onze binnensportaccommodaties. Op dit moment worden de voorbereidingen getroffen om het over de toekomst van de Balverszaal en de sporthal Calluna te gaan hebben. En ook over ons zwembad Calluna.
Samen met gemeenteraad, maar zeker ook de sportverenigingen, zullen we naar voorbeelden elders gaan kijken. Het is leuk om aan nieuwe projecten te werken, zeker als het samen kan met enthousiaste mensen. Een voorproefje hebben we al gehad met de gemeentelijke nieuwjaarsreceptie die in het teken stond van de sport. Bezocht door zo'n 1.000 inwoners. 2015 kan zomaar een mooi sportjaar worden.