Regelmatig schrijft een van de (steun)fractieleden over zijn of haar ervaringen bij Progressief Ermelo. Deze week is dat Bea van 't Hul, raadslid sinds 2014.
Sinds begin februari hebben we zonnepanelen. Ons huis heeft een ideale ligging recht op het zuiden, een zeer geschikt dak voor zonnepanelen aldus www.zonatlas.nl/ermelo/ Op deze site kun je je eigen adres invullen en een eerste scan doen of je dak geschikt is voor zonnepanelen.
We hebben al hele prima "zonnepanelendagen" gehad. Met een dagrecord van 26,9 kWh op dit moment. Via een app kunnen we meekijken hoeveel opbrengst we hebben per kwartier, uur, dag, maand etc. Een leuke sport waar het hele gezin inmiddels mee bezig is.
Die 26,9 kWh is bijvoorbeeld genoeg om 8955 AA batterijen op te laden. Dat spreekt bij ons in ieder geval tot de verbeelding. Goed voor het milieu en straks voor onze portemonnee als je rekent dat je gemiddeld 23 eurocent betaald voor een kWh elektriciteit.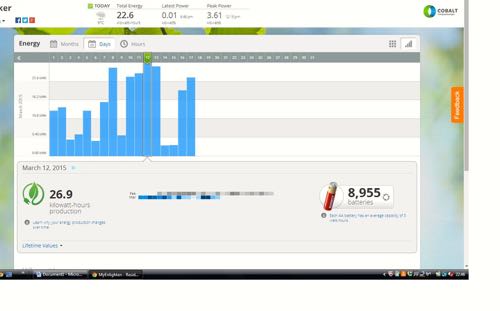 Zeg 'ns A
"Maak je huis duurzaam" is de ondertitel van deze campagne op de site www.veluweduurzaam.nl/zegnsa". Zeg 'ns A is een initiatief van Veluwe Duurzaam, een platform van 6 Veluwse gemeenten. Het doel van Veluwe Duurzaam is om duurzaam bouwen, wonen en werken op de Veluwe te stimuleren.
Via de Campagne Zeg 'ns A kun je als huiseigenaar alleen of samen met buren leren en ontdekken hoe je je huis het best duurzaam kunt maken. Onafhankelijke adviseurs begeleiden hierin. Het kan variëren van advies tot een heel stappenplan hoe je een verbouwing bijvoorbeeld duurzaam aan kunt pakken om zover mogelijk naar een A (energie) label toe te werken.
Voor iedereen die verbouwplannen heeft of meer informatie wil hoe zijn huis meer energiezuinig, beter geïsoleerd enzovoort te maken, wordt deze website van harte aanbevolen.