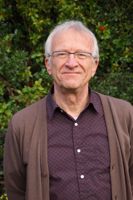 Regelmatig schrijft een van de (steun)fractieleden over zijn of haar ervaringen bij Progressief Ermelo. Deze keer is dat Alex Kleijnen, raadslid sinds 2010.
Jawel, het is zover. Na 41 jaar werken bij Veldwijk en haar rechtsopvolgers Meerkanten en GGZ Centraal, is het bijna klaar. Eind november ga ik met pensioen. Geen werkweken meer van 60 uur. Dat was de praktijk. Want raadslid zijn is, naast het hebben van een full time baan, flink buffelen. Ik hoop in goede gezondheid te gaan genieten van de vrijheid.
En natuurlijk komt er nu wat meer ruimte voor de politiek. Wat dat betreft is en blijft mijn focus als vanouds gericht op de belangen van de sociaal en economisch meest kwetsbaren.
Mijn werk als maatschappelijk werker liep al tamelijk naadloos over in het raadswerk en deze
stiel blijf ik ook na mijn pensionering trouw. Dat past bij onze partij. En er is genoeg werk aan de winkel.
Neem bijvoorbeeld de ouderen.
Het is de bedoeling dat ouderen zo lang mogelijk thuis blijven wonen. Niks mis mee. Wie wil dat niet? Maar dan moet er wel passende hulp zijn als het niet meer op eigen kracht of met hulp van de familie kan. Dan zul je als gemeente moeten zorgen dat thuiszorg mogelijk is. Want de verzorgingshuizen bestaan spijtig genoeg niet meer. Naast zorgvrijwilligers, voorzieningen en professionele ondersteuning is mantelzorg heel belangrijk in de thuiszorg. Dat zijn onze helden, veelal familieleden die hun hulpbehoevende naaste dagelijks met van alles en nog wat helpen. Onze waardering en ondersteuning voor deze mantelzorgers kan niet ruimhartig genoeg zijn. Daar is beleid voor nodig.
Nog een actueel thema: het wijkgericht werken. Het bevorderen van de leefbaarheid in de buurten. Het verstevigen van de sociale contacten. Het stimuleren van zelfredzaamheid. Zorg dragen voor elkaar. Hoe doe je dat? Hoe kun je als gemeente en inwoners op deze terreinen goed samenwerken? Ook gaan we dit jaar nog spreken over het armoedebeleid.
En zo kan ik nog wel even doorgaan, en dat doe ik!