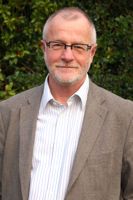 Regelmatig schrijft een van de (steun)fractieleden over zijn of haar ervaringen bij PE. Deze keer is dat Laurens Klappe, namens PE wethouder Samenleving.
Begin januari staat altijd weer in het teken van terugblikken en vooruit kijken. Natuurlijk na  iedereen eerst het beste voor het nieuwe jaar toegewenst te hebben, al dan niet op de verschillende nieuwjaarsbijeenkomsten. Wat mij betreft ook vanaf deze plaats nog de beste wensen voor 2016.
Sociaal domein
Voor het sociale domein staat er voor 2016 weer veel op stapel. Om te beginnen natuurlijk het verder verbeteren van de uitvoering  van de jeugdzorg en WMO. Andere thema's worden de maatschappelijke opvang, het armoedebeleid, een nieuwe kunst- en cultuurnota en een nieuw gezondheidsbeleid.  Dit voorjaar zal de bibliotheek verhuizen naar een mooie locatie binnen het gemeentehuis. Dit om uitvoering te geven aan het nieuwe bibliotheekwerk met aandacht voor taalachterstanden en leesbevordering. 
Dit is dan tevens de eerste zichtbare stap om te komen tot een Huis van Bestuur en Cultuur. Bedoeling is dat naast het al aanwezig welzijnswerk ook de politie en de Kunstuitleen hier een zichtbare plaats zullen krijgen.
Calluna
Wat spannend wordt is hoe het verder gaat met de toekomst van Calluna. In het voorjaar zullen hier knopen over doorgehakt gaan worden. Wordt het renovatie of nieuwbouw? Hoeveel ruimte krijgt het recreatief gedeelte nog?  Blijven sporthal en zwembad aan elkaar gekoppeld of krijgen de voorzieningen een eigen aparte locatie? Wie gaat het beheer verzorgen: de gemeente, een sportstichting of een commerciële partner? En blijft het zwembad wel op dezelfde plek? Om die laatste vraag te beantwoorden zijn al meerdere locaties op voor- en nadelen bekeken. Zoals ook de Zanderij en het terrein van Veldwijk.  Vele belanghebbenden kijken met belangstelling uit naar de antwoorden. En voor een belangrijk deel mogen ze die zelf mee beantwoorden. Dit geldt voor de burgers, deels vertegenwoordigd door 'de Vrienden van Calluna', gebruikers zoals de scholen en de sportverenigingen maar ook de medewerkers wiens baan het betreft. En zeker ook de politiek die waakt over duurzaamheid, bereikbaarheid en over de financiën.
Ik hoop op een mooi en sportief 2016 in goede gezondheid voor iedereen.