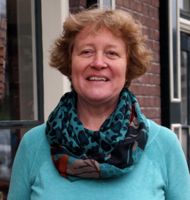 Regelmatig schrijft een van de (steun)fractieleden over zijn of haar ervaringen bij PE. Deze keer is dat Jaantje Vink, steunfractielid sinds 2014.
Afgelopen donderdagavond ben ik aanwezig geweest in het Alzheimer café aan de IJsbaanweg.
Er werd een film getoond over een meisje wiens opa dementeerde. Opa woonde in Friesland en verzorgde zichzelf niet goed meer. Eten, drinken en wassen werden minder. Ook vergat hij zijn huisdieren wel eens.
Opa kwam wonen in het gezin van zijn dochter in Brabant. De kleindochter vertelde over haar ervaringen met Opa en ze gaf hierover een spreekbeurt. Opa woonde in bij het gezin met jonge kinderen (basisschoolleeftijd) en hij kon zijn paard en andere dieren meenemen. Er werd voor hem gekookt en hij kon meedoen in het gezin (voor zover dat nog ging). Een spelletje met de kinderen, plagen aan tafel.
Maar hij ging ook veel slapen en zich vervelen en was soms incontinent. Ook ging hij  weleens voor de TV staan of dronk hij te hete thee.
De vraag is hoe lang Opa nog bij dit gezin kan blijven wonen nu hij achteruit gaat.
Deze herkenbare dingen werden na het kijken van de film besproken met elkaar. Er werden ervaringen uitgewisseld en dat geeft lucht aan je eigen ervaringen.
Juist het signaleren van problemen en het bijdragen van oplossingen is voor de politiek een belangrijk element. Zoals dagbesteding, betaalbaar vervoer naar het verpleeghuis en ondersteuning in het weekend, de vakantie en als het nodig is in de nacht.
Ook het uitwisselen van goede ervaringen is helpend, zoals een goed verpleeghuis in Diever, een zorghotel, een woonwijk met ouderen en jongeren door elkaar.
Als steunfractielid van Progressief Ermelo vind ik het belangrijk dat de gemeente Ermelo goede passende maatregelen neemt voor deze doelgroep en hun mantelzorgers om het langer vol te houden in een thuissituatie.
Het Alzheimer Café is een maandelijkse bijeenkomst voor mensen met dementie, hun naasten en belangstellenden. Elke eerste donderdagavond van de maand. De volgende bijeenkomst op 4 februari gaat over Vrije tijd en vakantie door Laurens de Wolf.
Belangrijke zaken die geregeld moeten worden:
 -Overzichtelijk bewaren van belangrijke papieren (zoals hypotheekakte, huurovereenkomst, verzekeringspolissen)
. -Betalen van de vaste lasten via automatische incasso.
 -Regelen van een toekomstig mentorschap of een beschermingsbewind. -Opstellen van een wilsverklaring.
 -Opstellen van een testament of het controleren van het bestaande testament.
 -Maken van een codicil..