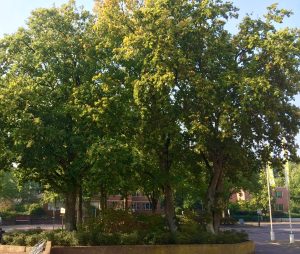 door Anneke Knoppert – In de meeste vergaderingen van de commissie Infrastructuur & Ruimte komen er een of meerdere bouw/ontwikkelingsplannen voorbij. En even zo vaak volgt er dan een discussie over de status van bomen en overige natuur al aanwezig op die locatie. Moeten bomen altijd wijken voor woningen? Wanneer wordt natuur gecompenseerd en waar moet dat gebeuren? Welke bomen staan op de lijst van monumentale bomen? Hoe belangrijk is die lijst eigenlijk? Hoeveel leefruimte heeft een boom nodig?
Om deze steeds terugkerende discussies te voorkomen en, nog veel belangrijker, om vooraf duidelijkheid te geven aan alle plannenmakers heeft Progressief Ermelo samen met BBE en de VVD een motie ingediend waarin het college opgedragen wordt om na de zomer met een overzicht te komen van het bestaande beleid ter bescherming van de al aanwezige bomen en overige natuur op de locatie van bouw- en ontwikkelingsplannen. Ook moet het college de lijst met daarop alle monumentale bomen in Ermelo bijwerken. Dit had zij eigenlijk al twee maal  (iedere 5 jaar) moeten doen sinds de vaststelling van deze lijst, maar heeft dit tot nu toe verzuimd. Wanneer duidelijk is welke regels er nu al zijn kunnen we als raad gaan bespreken of er iets ontbreekt, of bepaalde regels elkaar tegenwerken en hoe we e.e.a. beter moeten vastleggen. Pas dan is het mogelijk om een visie te ontwikkelen die past bij een gemeente die groot belang hecht aan groen en duurzaamheid.
Deze motie is unaniem aangenomen in de raadsvergadering van donderdag 30 juni.