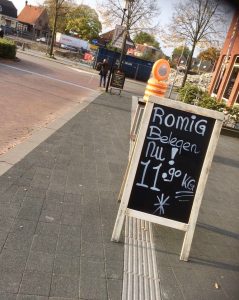 door René Arts – Nog meer over verkeer, deze keer over toegankelijkheid en voetgangers. Samen met fractievertegenwoordiger Ivio Damming heb ik gesproken met de Plaatselijke Werkgroep Toegankelijkheid (PWT). Een groep betrokken en deskundige Ermelo-ers die het college van burgemeester en wethouders adviezen geeft op het gebied van toegankelijkheid.
De leden van de werkgroep weten, mede door hun leeftijd of beperking, heel goed waar je last van kunt hebben als je je verplaatst binnen Ermelo.
Er gaat al veel goed op dit gebied, maar er zijn ook nog wel problemen. De leden van de PWT schudden de voorbeelden zo uit hun mouw: lantaarnpalen die soms midden op een trottoir staan; adviezen waar niet altijd (tijdig) een reactie op komt van de gemeente; handhaving die beter kan zoals bijvoorbeeld wanneer winkeliers hun spullen uitstallen op de blindengeleidestroken, er regelmatig een bus op het trottoir geparkeerd staat of waar fietsen op het trottoir staan bij een restaurant. Er kwamen er vele voorbeelden langs. De punten waar wij wat mee kunnen als politieke partij, en dat zijn er vrij veel, gaan wij aankaarten binnen het gemeentehuis.
Hebt u nog andere voorbeelden? Die horen wij graag!