Als Progressief Ermelo zijn we blij en trots dat we een gevarieerde grote kandidatenlijst kunnen presenteren.
Onze PE kandidaten zijn breed vertegenwoordigd in Ermelo, van jonge student tot actieve gepensioneerde, vrijwilligers, sporters, mannen en vrouwen met  beroepen in de zorg, muziek, defensie, onderwijs, gemeente, ondernemers enzovoort. 
Ze hebben gemeen dat ze het progressieve sociale gedachtengoed van Progressief Ermelo ondersteunen en uitdragen.  We stellen ze tot 19 maart aan u voor:
Laurens Klappe, kandidaat wethouder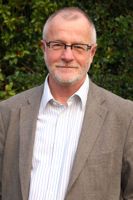 "Ik ben de wethouderskandidaat voor Progressief Ermelo. De afgelopen vier jaar is ben ik al wethouder geweest voor onder andere onderwijs, sociale zaken, wijkgericht werken en kunst en cultuur. In die periode zijn er belangrijke zaken gerealiseerd of in gang gezet: Ondanks de crisis zijn er jaarlijks meer mensen uit de uitkering gestroomd en naar een (betaalde) baan geholpen. Er zijn meerdere scholen gerenoveerd of nieuw gebouwd zoals de Klokbeker, Margrietschool, Arendshorst, Cantharel en de Rietschansschool.
Het wijkgericht werken is van start gegaan met het wijkteam. Voor de huishoudelijke hulp heeft een nieuwe aanbesteding plaatsgevonden waarbij de inwoners dezelfde hulpverleners konden houden en de medewerkers niet gekort werden op hun salaris. Het minimabeleid is verbeterd waardoor gezinnen met kinderen er op vooruit zijn gegaan.
Er is een begin gemaakt met de uitvoering van de plannen voor de 'nieuwe Dialoog' waar ook een plek zal komen voor de bibliotheek.
Voor de komende periode staat er ook veel te gebeuren. Er komen nieuwe taken bij voor de gemeente: Het wijkteam zal een sociaal team gaan worden. De WMO wordt gemoderniseerd en binnen de jeugdzorg wordt er meer rekening gehouden met de wensen en mogelijkheden van de inwoners zelf.
Met Progressief Ermelo aan het roer kunnen de mensen het vertrouwen hebben dat er ook in de komende jaren hard gewerkt wordt om Ermelo sociaal en groen te laten zijn".